PPRc Pipe
FAST FLOW PIPES (PVT.) LTD.
PPRc PIPES AND FITTINGS
FAST FLOW PIPES (PVT.) LTD is nationwide company and manufacture of PPRC Pipe for hot and cold water. PPRC Pipe and fitting bound to make your living even more worthwhile, unique in their virtues, quality, durability, finish and connectivity. Fast Flow PPRc Pipe result in unsurpassed satisfaction for more than a life time.
Standards and Specification
PPRc Pipes PN-20 DIN 8077 and DIN 8078
PPRc Fittings PN-25 DIN 16962
Salient Feature
Production as per international standards (DIN 8077 & 8078)
Easy Jointing through socket fusion.
Food Grade raw material for hygienic water.
Friendly environment.
Sizes 20-110mm.
No calcification.
30 bars pressure tested.
Material is endurable to acids and chlorides.
Low cost.
No oxidation and perforation.
Light weight.
No cancerogen effect.
Used for distribution of drinking water.
Longevity.
Durable hot and cold water handling.
Endurable against corrosion and vibration.
PPRc Pipe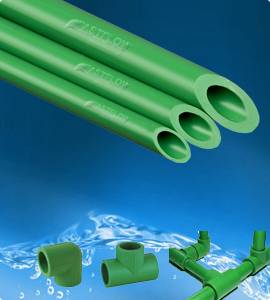 Product Range
Range
Sizes (OD)
20mm
25mm
32mm
40mm
50mm
63mm
75mm
90mm
110mm
Sizes (ID)
13.20mm
16.60mm
21.20mm
26.60mm
33.20mm
42.00mm
50.00mm
60.00mm
73.20mm
Wall Thickness (PN-20)
3.40mm
4.20mm
5.40mm
6.70mm
8.40mm
10.50mm
12.50mm
15.00mm
18.40mm