PVC Pipes
U-PVC PIPES AND FITTINGS
Advantages
Key Specifications / Special Features:
FAST FLOW PIPES (PVT.) LTD is nationwide company Supplier of U-PVC Pipe for water Supply, Drainage and Conduit (Cable) pipe System
Light Weight
Tensile Strength comes to above 45MPa.
Inner layer is smooth and prevents.
Excellent resistance to corrosion that is caused by acids, alkaline, chemicals and electricity, therefore causing no stains.
Applications: Cold Water, Agriculture, Horticulture, Child water line, Drainage, Sanitary, Sewerage, chemical, water treatment, slurry line etc.
Easy to install and seal well.
Under normal condition lifespan can reach up to 50 years.
Low cost.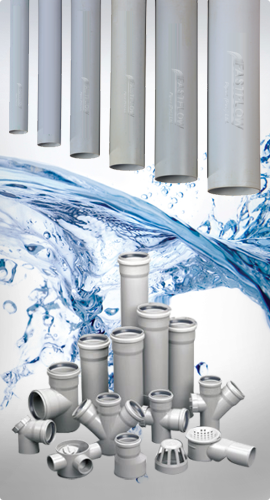 Product Range
UPVC PRESSURE PIPE DIMENSION
Sizes in Inches
3/8
1/2
3/4
1
1-1/4
1-1/2
2
2-1/2
3
4-1/2
5
6
8
10
12
14
Field Test Pressure (Bar)
Field Test Pressure (Psi)
Class − B KG/Mtr
–
–
–
–
–
–
–
–
1.17
1.78
2.44
3.46
5.30
8.26
11.55
13.87
9
131
Class − C KG/Mtr
–
–
–
–
–
–
0.68
1.01
1.41
2.32
3.49
5.01
7.72
11.97
16.85
20.27
14
196
Class − D KG/Mtr
–
–
–
–
0.41
0.54
0.82
1.20
1.82
3.03
4.55
6.57
10.04
15.59
21.91
26.49
18
260
Class − E KG/Mtr
0.11
0.15
0.22
0.32
0.50
0.65
1.03
1.58
2.22
3.65
5.60
7.95
12.17
18.89
26.68
32.16
22
320